How to find Free WiFi Spots in London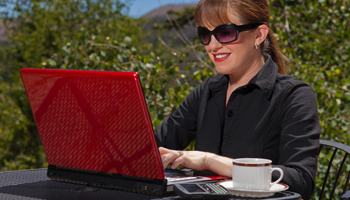 Whether you are visiting London or in the city for business, a great way to avoid roaming charges and save money is with free internet access. Free Wi-Fi is a great way to stay connected, including catching up on work, looking at what's new on social media or reading your email. Free Wi-Fi hotspots are found in pubs, bars, hotels, shopping centres, restaurants and cafes across the capital. Some of the city's top tourist attractions also provide free Wi-Fi networks, including the British Museum, the British Library, the National Theatre and Tate Modern.
Free Wi-Fi Hotspots
A number of chain restaurants, bars and cafes offer free Wi-Fi connections throughout London. McDonald's has free Wi-Fi access at its more than 180 branches in London. The service also features family and child friendly filters. McDonald's partner O2 also provides free Wi-Fi for any one visiting a Costa Coffee, Debenhams, House of Fraser, Café Rouge and other establishments throughout London.
Free wireless internet is also available Starbucks coffee shops, although users need a Starbucks Card to access its BT partner network. Sessions last for two hours, at which time users have to log in again. BT also provides broadband Wi-Fi service at a variety of hotels, coffee shops, service stations and airports in the capital. BT Wi-Fi is available at Thistle Hotels, Hilton, Menzies, Roadchef and Wlcome Break service stations, and other sites.
Other Wi-Fi enabled chains in London include KFC and Leon. Additional eateries and bars with wireless Internet include most Apple, Pret a Manger, Wetherspoons, Corney & Barrow and Coffee Republic branches. Beyond chains, many independent pubs, bars, cafes, restaurants and shops also offer free internet access. A good resource to find Wi-Fi enabled locations is Time Out London's Wi-Fi guide.
Free Wi-Fi Zones
A major Wi-Fi zone in the capital is found in the City of London and is operated by the Cloud. The network covers the entire Square Mile, which is perfect for anyone doing business in the City. The Cloud also operates a similar service at Canary Wharf, the Barbican Centre, and Network Rail stations including Charing Cross, Euston, Liverpool Street, Victoria and London Bridge. The Cloud also provides free Wi-Fi at Caffe Nero, Pizza Express, Pret, Greggs and Wagamama locations. To access the services, users register with The Cloud or with the FastConnect mobile app. Sky Broadband and 4UWiFi customers also have access to all Cloud hotspots.
Free Wi-Fi is provided along Upper Street and Holloway Road in Islington. The Wi-Fi zone is one of the largest free wireless internet networks in London, running from the Holloway Odeon to the Angel. The service can also be accessed from pubs, bars and cafes along Upper Street. Users connect to the StreetNet network and are asked to register a username and password. Access is provided for up to one hour, at which time users must reconnect.
Virgin Media operates a Wi-Fi network at over 130 London Underground stations. The service is free for Virgin Broadband, Virgin Mobile Pay Monthly, Vodafone, EE, Orange and T-Mobile customers. Others can access for service for as little as £2 per day with a Virgin Media Wi-Fi Pass. Weekly and monthly rates are also available for regular Underground travellers.
In addition to access in shops, cafes and bars, O2 provides outdoor Wi-Fi internet in some of the most popular areas of Central London. The network's Wi-Fi reach ranges from Kensington's High Street and Parliament Square in Westminster, and includes Trafalgar Square and the popular shopping districts of Oxford Street and Regent Street. Registration is required to access the free service.