Shared Office Space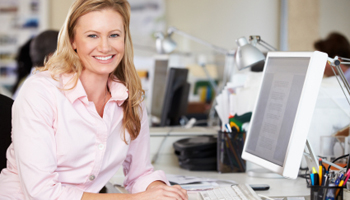 If a business is uncertain as to whether or not it can sustain its own office space, a shared office solution is an ideal option. Shared office space allows a business to grow at its own pace and take time to determine where to settle on a longer term basis. It is a good short to medium term solution for new and established businesses alike, whether they are starting up, entering a new market or in need of temporary office space.
About Shared Office Space
Shared office space refers to a common office environment that is shared by a variety of occupants. This means that businesses occupy a large space with each other. Shared offices are typically serviced, meaning that a range of amenities are included with standard lease arrangements. These shared services are used by all tenants and include information and communication technology, meeting rooms and support services such as receptionists and building maintenance. Costs are kept low thanks to all-in-one billing and no overhead costs borne on the part of the business, such as capital investments for office equipment and technology.
Advantages of Shared Offices
One of the main advantages of a shared office space is its cost effectiveness compared to buying or leasing a traditional office space. Costs for things like internet access and office equipment are shared by all occupants of the space. As a result, there is no need to make upfront capital investments for common office items such as office furniture and IT equipment. There is also no need to manage potentially costly contracts for a variety of office services, such as building maintenance and IT support. All these support services are offered by the shared office operator and accessible by all tenants. Lease conditions are also flexible and short-term, meaning a business can adjust them in response to operational needs and fiscal realities much more easily than in a traditional office lease.
A shared office space also allows a business or business owner to project a professional image and office environment. This is especially important for small businesses that may otherwise operate from a home. A shared office can be the difference between moving a home-based operation into a larger operation that attracts new clients and employees. A shared office allows businesses to provide clients and customers a professional image from perhaps a coveted business address, including professional meeting spaces. Having a professional space can help attract new clients as well as new staff with essential business supports and employee amenities, such as a kitchenette and fully-equipped workspace in an office environment.
Networking is vital for any business interested in establishing itself or growing. A shared office environment is ideal for fostering business relationships and building effective networks with on-site collaboration. They are also an opportunity to learn from other businesses with a variety of experience and operating in a number of sectors. Shared offices also provide tenants with ample space to meet and do business, including lounges, boardrooms, breakout rooms and other meeting spaces. They also feature the latest presentation and conferencing technology to help facilitate meetings with clients and customers.
Disadvantages of Shared Offices
Although a shared office space has many advantages, there are also some disadvantages with this type of office solution. However, many of the most common disadvantages can be mitigated to ensure a shared office space works for businesses and their staff.
One of the most significant challenges is the very fact that a business is sharing their space with others. Shared space can lead to a clash between personalities as they work together. Rivalries may also arise between businesses, especially those engaged in the same sector. There may also be distractions that might affect productivity, including ones that are out of a business's control since they involve another company in the shared space. Often times shared office operators allow tenants to influence the layout of their space. Ensure that the layout of your space promotes maximum productivity and privacy. This might include orientating workstations in a way that physical divides the business from other tenants by having buffers such as screens.
Size is also a common challenge with shared office space. There may be competition for shared services and spaces, such as challenges with respect to boardroom availability and access to shared technology. When choosing a shared office space, always consider the size and availability of services. The space should be able to accommodate the business and its staff comfortably. There should also be contingencies to ensure shared services are available whenever they are required.