Best Shared Workspace Hubs in North London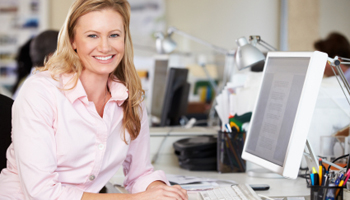 Sole traders can often conduct much of their work from home, but it can get a bit tiresome if every day is spent without mixing with other professionals. In North London - as elsewhere in the capital - there are a growing number of shared workspace hubs which mean that you can get the best of both worlds - independent working whilst mixing and networking with others. Freelancers often find the shared offices or co-working space conducive to working efficiently, especially if there are distractions from work in the domestic environment. North London shared offices and workspace hubs are also great if you travel to the capital from time to time to do business and need somewhere to log in that is has a bit more of a professional atmosphere than a coffee shop. These days, we all have to work more flexibly than ever before and in North London it is easy to find a good location where you can do so.
Camden Town Unlimited
Situated on Camden High Street, this shared professional space is particularly good if you work in, or for, the creative industries. Rent is negotiable depending on your exact requirements. If you choose to base yourself in this trendy part of North London you will be rubbing shoulders with web-based start up enterprises, fashion designers and app programmers. It is great for a simple hot desk drop in or a longer term relationship, if that's what you are after. There are even uniformed security officers who keep an eye on the place, too.
Impact Hub, Islington
This facility is just a short distance from Angel tube station and offers friendly and dynamic home to a community of entrepreneurs and innovative start up businesses. Impact Hub Islington is the home of the Hub network which has now gone worldwide. The emphasis here is on collaborative working and getting to know other professionals who can help your business to develop and succeed. Project work as well as full businesses can be run from the hub, courtesy of their super fast wireless internet. Printers, scanners and storage facilities are on offer, too. You can also hire meeting rooms, if you need them.
Crowndale Road Offices, NW1
Situated close to Mornington Crescent tube station, on the Northern line, these shared offices are available to hire on a month by month basis and suited to individuals as well as small teams. The rental cost is inclusive of your desk space, safety lockers and business registration address, so this is a good place to consider running a start up from. The workspace also offers fast WiFi and printing facilities.
The Busworks, Islington
Situated just off the Caledonian Road, this is a light and airy studio space which has been catering for small and creative businesses for decades. Renovated from the old Victorian coachworks from which it gets its name, the hub retains many of the building's original features externally, with plenty of contemporary architecture to be found on the inside, too. Most of the units are occupied by established small firms, but the drop in workspace is only likely to grow as more and more demand for it is made in this part of the capital.
Wenta Business Centre, Enfield
Opened in 2014, the Co-Work Hub at Wenta Business Centre is in one of London's most northerly suburbs, making it ideal if you want to drop in and do some work without the hassle of making your way through the city's traffic. The centre caters for all sorts of businesses but the shared workspace hub is new, meaning that it is likely to lead the way for other industrial estates in the area.
Highgate Road, NW5
These open-plan shared office spaces are available to rent by the month per person, making them ideal for a mid-length project that is being conducted in the capital. The facility provides a professional working atmosphere as well as a being a sociable place to work. This is the right sort of place for a small business or even a start up. There's support that is available from co-tenants who are often operating as freelancers on an individual basis, as well as kitchen facilities with unlimited tea and coffee. And the desk space provided is larger than most, with good-quality chairs and storage.
Blighty Workspace, N4
This corner of Finsbury Park is easy to get to by public transport or the A1 trunk road. There is a shared lounge area as well as a garden for relaxing in, but most professionals come here for the excellent coffee at the store below the offices. There are twelve desks available and this includes a high speed internet connection and access to a shared meeting room. The workspace boasts several private office suites as well, so it is an option to consider for small businesses as well as freelancers.