Hot Desking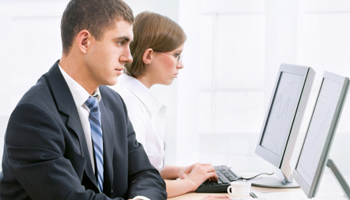 Traditionally, office space was defined and assigned for individual workers. With new technology and the push to save money, 'hot desking' is becoming a popular trend among businesses in London. In addition to increasing efficiency, hot desking also promotes better teamwork and can help enhance innovation.
What is Hot Desking?
Hot desking involves multiple employees utilising a single work space, such as an office desk, cubicle or other work station. Different workers use the space at different times. A work station is shared during different shifts rather than one staff member being assigned to a specific space that does not change during their time with a company. This type of arrangement is popular is workplaces where employees are not in an office or factory at the same time, leaving personal work stations vacant for potentially long periods of time. As a result, hot desking helps companies reduce operating and overhead costs by requiring less space and equipment to do business.
A hot desking set-up might be organised in a specific manner if there are multiple teams working in an office. For example, cubicle partitions or walls might be coloured to identify group areas. Similarly, nameplates or common furniture colours might be employed to identify certain areas. In a shared office space with a number of businesses, a colour system might also be used to identify different companies.
Although this type of office solution is effective for many businesses, it is not ideal for a company with workers that are expected to be in the office on a full-time basis. Hot desking works best for businesses with employees that have flexible work hours. Other drawbacks of hot desking include the lack of personal space, which might be a concern for some workers. However, the cost benefits of hot desking are much higher than any potential negative aspects. Hot desking also helps to improve communication and collaboration, and is an effective response to increasingly mobile workforces.
Hot Desking Services
A variety of tools are provided to hot desking clients thanks to the use of virtual desktops. Software integrates all communication systems, which can be customised for individual businesses. The software system can be used to manage a variety of resources, including conference and meeting rooms, offices and desks, and technology such as presentation tools and media resources.
Workers might be assigned a desk with a computer. Alternatively, employees are assigned laptops that can then be used at any available workstation. Voice and other messaging services are easily routed to different stations, depending on where the employee is working on any given day. Email, instant messaging and telephone numbers can be redirected to the work station and is not tied to the physical location of an office or desk. Employees simply log into the corporate network to gain access to shared directories, email and other resources.
Hot desking is a common option for clients of shared office spaces. Shared offices in London offer work space and shared resources for businesses and other clients. Resources shared among clients include technology such as conferencing and presentation tools, printers, fax machines, computers and projectors. Providers also offer broadband internet and Wi-Fi for clients. Other common services include amenities such as kitchenettes, conference rooms and other meeting spaces. Certain shared office providers may also feature recreational spaces, from pool tables to fitness centres.
Hot Desking in London
Shared office spaces are becoming increasingly popular in London. Similarly, hot desking has been employed by a number of shared office providers. Many shared office providers in London charge membership fees, which typically averages about £200 per month. Providers in highly sought after addresses such as TechCity and Canary Wharf may charge higher fees. Co-working space is also available on a per day or per hour basis, with hot desks often provided for as little as £30 per day.
High-profile sites in London include The Hub in Westminster, The Office Group's Warnford Court, and the Google Campus in Shoreditch. Central Working also employs hot desking at its shared offices in Shoreditch. These successful models of co-working often consider high quality aesthetics when designing their space. They also offer a combination of private workspaces such as offices and larger shared workspace, such as the sprawling seven-level Google Campus and the 11,000 square foot Office Group's Black and White Building in Shoreditch. Attractive shared offices with hot desks also offer a range of support services, including learning and training opportunities.
Finding a shared office space in London has become easier with resources like GoCoWo. The online tool provides an interactive map of co-working spaces in the city. The map offers details on businesses operating in the shared space and what resources are available for clients. The online resource is invaluable for a freelancer, entrepreneur or company looking for an innovative space to network and grow their business.