Best Shared Workspace Hubs in South London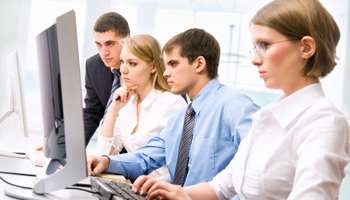 Being a professional who can work at any time and from any location can give you a significant edge on the competition. Being flexible is what it is all about and this is especially so in the capital, where so much of the UK's economy is driven from. It is not just the financial district in the City and docklands that count for so much of the wealth creation. London is also home to much of the legal profession and to the creative industries, too. Workspace hubs are more established in the capital than elsewhere in the country and it is relatively easy to find something suited to your business needs at relatively short notice. If you don't need to be right in the middle of London, where the rents are highest, then South London is a great place to look. Shared offices and workspaces that will allow you to integrate with other freelancers and flexible workers are to be found aplenty.
More London
Situated close to London Bridge Station on the south bank of the Thames, More London is an impressive sight before you begin to even discover its facilities, designed for the flexible professional. The building was the brainchild of architects Foster and Partners, so it makes for a perfect temporary site in order to impress clients from all over the UK. It is especially useful if your customers and clients tend to be in the financial district, because the City of London is just on the other side of the river, easily accessed via London or Tower Bridge. Just down the road is the London Mayor's Building, so it is a good location to choose if lobbying is on your agenda, too. There are also plenty of bars and restaurants that are in the close vicinity, making it ideal if you want to entertain your clients following a presentation or a meeting.
Chester House
Conventional wisdom has it that all of the creative professionals and designers work in the north around Shoreditch and Hoxton, but this is not so. Recently refurbished shared offices in Lambeth have been successful in attracting all sorts of entrepreneurs and start up companies to a newly put together creative hub. Chester House is just over the road from Kennington Park and offers executives studios that are centred around a focal atrium. Typically, offices can accommodate anything between two people sharing and fifteen individuals. With close to a hundred businesses already operating from Chester House, its popularity looks set to continue. And it is only a few hundred metres from a Northern Line Underground station.
Parkhall Business Centre
Transformed into a hub for creative industries from an old electronics manufacturing base, Parkhall Business Centre offers both office studios and workshop spaces, so you get complete flexibility. Situated in West Dulwich and only about a half a mile from the South Circular ring road, it has an onsite café and meeting rooms which can be hired at short notice. The centre occupies a prime spot on a quiet residential street, but it is just a few minutes walk from amenities and restaurants on the nearby Norwood Road.
Portland House
Boasting some of the best views in London, Portland House lies in the heart of southwest London. Positioned close to Victoria Station, it offers easy access to the West End and to Westminster. With up-to-date IT facilities and flexible offices on offer, the building is the tallest in southwest London and has no less than 29 levels. This is a particularly good location if your work involves government departments, all of which are easily accessed from this part of the capital.
Enterprise House
If you are looking for something in the middle of London which will mean that you can access any part of the capital when a client needs you, then Enterprise House is certainly worth considering. The building is stylish and modern with an excellent reception area that has meeting rooms running off from it. Situated close to the OXO tower and ITV's headquarters, it is easy to get to the City of London or the West End from its central position. There is even some onsite parking, rare for workspace hubs in central locations. Having said that, it is only a short distance from Waterloo Station and most people who use it commute from there.
Matthews Yard
Situated in Croydon, south London, Matthews Yard is favoured by start up businesses and freelancers with a technical slant, although in fairness anyone could use it. The location means that access to central London is convenient, but heading south into Surrey, Kent and Sussex is also easy. It is the perfect location if you want to be close to an airport hub, like Gatwick, but not too far from the middle of things either. Access packages are organised sensibly with anything from unlimited usage to one day per month. If you only need access at weekends, then its Saturday and Sunday only package might be for you.