Growing Up - Getting Your Business to the Next Level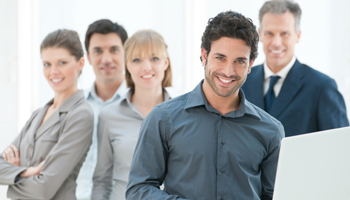 A shared workspace might be a great option for a small enterprise or a start-up, but it might not be the best office solution once a business has reached the next level. There might be a variety of reasons to justify pursuing a business's first office, including the need for more space or dedicated facilities. Before making the decision to move into a new office, companies must look inward to determine whether they have the long-term financing and need for a dedicated space.
The Need for More Space
While serviced offices and shared workplaces offer a great deal of options to accommodate businesses of all sizes, eventually the benefits of a dedicated office becomes necessary. Certain shared office spaces might not have enough room for employees to work comfortably, especially for larger businesses. There might also be increased competition for resources such as meeting rooms and shared technology as businesses grow in terms of operations and workforce. Although a new office entails overhead costs for things like information technology, these new resources are necessary for successful companies that are growing and become established. Dedicated resources also avoid situations where a conference room or equipment for a presentation is unavailable in a shared office space.
Reaching Critical Mass
A business that has reached a sustainable growth level that requires fewer short-term office changes may look at getting their own space. Serviced offices and shared workspaces are great for companies that are quickly expanding, setting up shop in a new market or just starting up. Companies with stable workforce numbers and in particular businesses with a large workforce might find the cost of renting a new office more cost effective than remaining in shared office environment. Long-term staff may also want their own dedicated space, such as assigned offices and workspaces that offer more privacy. A new office can provide greater flexibility to respond to these needs and attract high quality employees. It might also be a viable option for an established business that has long-term plans of remaining in a specific city.
Promoting an Individual Brand
A serviced or shared office limits a company's ability to extend their individual brand in their workspace. A new office can help a business establish their identity. There is much more flexibility in terms of designing and defining a space with a dedicate office space, whether it is a new building or space in an existing complex. Businesses can work with architects and interior designers to create a bold identity that reflects their corporate identify and business style. A company's corporate style can be reflected everything from the layout to the choice of colours, materials and furniture. A new office also gives greater flexibility for a company to offer staff amenities that might be limited in serviced or shared office, such as recreational facilities.
Increasing Visibility
A shared workspace might not offer a lot of visibility for a business. This is especially true in shared workplaces where a company's name might not even appear on the building's lobby directory. Recognition is less of an issue in most serviced offices. These facilities often list all the businesses operating in their property. However, a new office is a chance to increase a company's visibility with more opportunity to introduce their own branding on the outside of a building and public areas, such as a reception area or lobby.
Enhancing Security
A shared office might not be the best place to store sensitive information, including details about new products and services that are under development. With staff and owners of several businesses sharing one space, there is also less privacy in a shared office environment. Shared workspaces often require employees to lock-up their laptops or bring them home. In a traditional office, this requirement is no longer necessary. As a result, problems like forgetting a file at home or the fear of having a sensitive file compromised are reduced. There is also more room for the physical storage of files and sensitive materials such as prototypes in secure spaces. A dedicated office also allows businesses to develop their own information technology systems, such as secure networks. In a shared space, access to a cloud using wireless internet is often the only option for storing files. This type of technology is much more vulnerable to security breaches.
Increased Professionalism
A shared office environment attracts a variety of personalities. This type of office space also brings together businesses and individuals with different ideas of what it means to be professional. Professionalism in a shared office space can manifest itself differently depending on expectations of individual businesses and manager, such as different dress codes. This can have a negative impact on clients, customers and stakeholders who meet with a business when something inappropriate in the view of the host business takes place. Similarly, a company's idea of professionalism might evolve over time and differ from when the operation was just getting off the ground. Moving into a dedicated office allows businesses to set their own standards of professionalism and avoid negative impressions left on people they are inviting into their office.