Freelance Friendly Spaces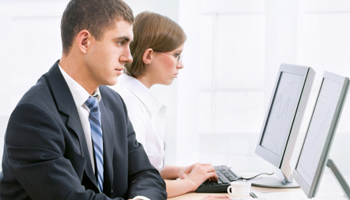 Whether you are working solo or looking for a place to meet with clients, London offers a wealth of freelance friendly spaces. From coffee shops to shared offices, there are plenty of options for a freelancer to work and meet in London. While this list is far from exhaustive, here are some of the capital's best places for freelancers.
Royal Festival Hall
One of the world's leading performing arts venues is also a great place for individuals and groups of freelancers to work and meet. The Royal Festival Hall at the Southbank Centre offers space to work and collaborate at the Riverside Terrace Cafe, the Central Bar and the Skylon restaurant. Entry is free and the Southbank Centre invites members of the public to stay in foyer spaces, whether they have a ticker for an event or not. Freelancers who become members of the Southbank Centre get access to a private members' bar with stunning views of London, as well as priority booking for space at the venue. Members also receive discounts on food and drink at the Topolski Bar + Café and on lunch at Skylon. There is also free Wi-Fi at the Royal Festival Hall. It can get very busy at the Royal Festival Hall, but getting there early is a good strategy and membership guarantees access at any time.
O2 Workspace
Situated at 229 Tottenham Court Road, London's O2 store features a workshop in its basement. The 4,500 square foot space offers a range of supports for freelancers and businesses, including business advisors. In addition to providing a relaxed space to work and meet, the O2 Workspace also delivers seminars and networking events in partnership with StartUp Britain, Enterprise Nation and Capital Enterprise. There's free Wi-Fi, mobile and landline access, drop-in workstations, tea and coffee facilities, and a lounge. There are small meeting booths for up to four people, but anyone planning a meeting will need to book in advance.
Google Campus
Spread across seven floors, the Google Campus is a hub for tech start-ups in London. It's also an inviting space for freelancers looking for a space to work or meet. Freelancers can use the cafe, run by Central Working which is found in the basement of the Bonhill Street site, for free. The welcoming cafe area includes table football, a small courtyard and a community notice board. Opened in 2012, there are also a variety of supports to help entrepreneurs including mentoring, workshops and special events at the Google Campus. There's also fast Wi-Fi access and an international feel with people from around the work working in the collaborative space. Freelancers looking for a longer-term arrangement can also apply for a shared workspace and become a campus resident.
Mozilla Space
Mozilla Space at St. Martin's Lane has become one of the most popular workspaces for freelancers, especially web-based entrepreneurs and innovators. Located on the third flood of Mozilla London, the space includes a kitchen that is accessible to anyone. Mozilla Space offers an open environment to design, code, research and create. Small groups can get together for short periods of time in a conference room, simply check in at the front desk and coordinate supplies with a Mozilla sponsor. Larger groups who need space for longer periods of time can use the Community area. Freelancers need to book space whenever catering or supplies are needed, or when scheduling a meeting outside of regular office hours.
90 Main Yard
With impressive views of Queen Elizabeth Olympic Park and the Olympic Stadium, 90 Main Yard is housed in a large loft warehouse with a modern bar and restaurant. Studios and co-working spaces are available Monday to Friday for meetings or freelancers and start-ups looking for a pleasant spot to work. The East London facility boasts two meeting rooms, complimentary high-speed internet, a shared kitchen, and informal areas to meet and work. In addition to informal work spaces, 90 Main Yard also provides permanent desks and hot desk options for longer-term use. The best part of this space is its eclectic mix with representation for a variety of sectors and professions.