Best Coffee Shops for Working and WiFi in East London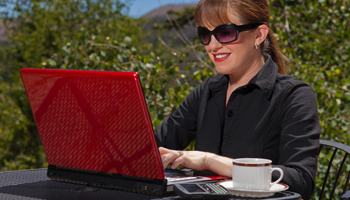 East London is home to London's Tech City, a hub of activity for the UK's digital technology sector. There are ample coffee shops to work and meet in the East End, particularly around the Shoreditch area where some of the world's leading high tech firms are based. The best coffee shop offers just the right atmosphere with an inspiring space but with few distractions. They are also reliable, providing a spot to work without being too overcrowded and consistent Wi-Fi access. Here is a list of some of the top coffee shops to work in the East End.
Central Café, Google Campus
The seven-floor Google Campus is located in London's Tech City. Located in the basement of the Google Campus, the café has excellent facilities from great Wi-Fi connections and luxurious toilets. Although the food can be expensive, there are a range of delicious menu items. Some limitations include minimal power outlets and hard angular wooden seating. Since it is Google's UK headquarters, the location is a great place to rub shoulders with innovators in the digital and high tech world. Other amenities at the Google Campus include event and meeting space, workspace, showers, and business support services including training and mentoring.
The Book Club, Shoreditch
One of the largest cafes in London, The Book Club features ample natural light and comfortable seating. With fully licensed premises, the popular and attractive café also features a ping pong table and stunning book art displays to keep you distracted during breaks. There is certainly a 'wow factor' when you step into the coffee shop, which offers an inspiring space to work or host meetings with clients or colleagues. There are few power outlets and the coffee is not as great as some other work-friendly coffee shops, but The Book Club is a regular spot for anyone looking for a place to work in the East End. The Book Club is found on Leonard Street, close to Shoreditch High Street station.
Café 1001, Brick Lane
Café 1001 features comfortable sofas and interesting contemporary artwork, as well as a diverse selection of coffees, teas and smoothies. There's also a tasty food menu and an outdoor BBQ. Located at Brick Lane, the relaxed coffee shop attracts a varied clientele that includes office workers and hipsters. The eclectic space features a mix of seating, from benches to sofas and large wooden tables to host a meeting to freely spread your files and laptop along with your drink or food. A DJ takes over every night from 7 p.m., so the Café 1001 might not be the best coffee shop to work into the late hours.
Timberyard, Shoreditch
Away from the hustle and bustle of the Google Campus is Timberyard close to the Barbican tube station. The coffee shop offers excellent food and high-quality Wi-Fi. Located on Old Street in the Shoreditch area, the modern coffee shop also features two floors with co-working space and meeting rooms that can be booked. Meeting spaces are also available for visitors who spend a minimum amount on food or drink. Timberyard also operates a branch at Covent Garden in Central London, which also includes free work space and a welcoming space to work.
Long White Cloud, Hoxton
There is so much more that the Long White Cloud offers beyond an inviting space to work and excellent internet access. Long White Cloud offers great tasting coffee as well as delicious free-range, fair trade and locally sourced food throughout the day. The chilled space also serves as a gallery for local artists, and hosts a range of events and exhibitions throughout the year. Although a popular hangout for locals in the East End, the trendy café is also a relaxed spot to work. The intimate and homey café is located on Hackney Road in Hoxton, close to Hoxton and Shoreditch High Street.
Look Mum No Hands!, Old Street
Look Mum No Hands! is a café and cycle shop with inviting outdoor and indoor spaces to work. The airy café offers plenty of natural light in a bright and interesting space. The café attracts lovers of coffees and bikes. Films and cycling events are also shown on a large screen, and on-site mechanics mend bikes. Located on Old Street, there's excellent Wi-Fi although the outside connection is less reliable. This quirky space features large wooden tables with ample space to work or arrange a meeting. The licensed location also offers savoury food. There's also a second Look Mum No Hands! location at Mare Street in London's East End.