Best Shared Workspace Hubs in Central London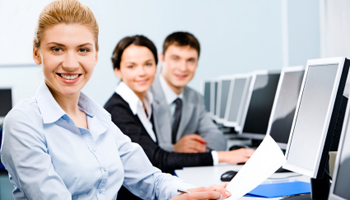 These days, agile working and complete flexibility in the workplace are commonplace in many cities, but in Central London - which has a faster pace of business life than just about anywhere else - shared workspace hubs have been around for a while. As such, shared desk spaces at so-call liquid office arrangements are better established in this area than elsewhere in the country. As a result, you can find some of the best facilities in centrally located London hubs. If you are looking for a flexible location from which to work for an ongoing short or mid-term London-based project, or a simply somewhere where you can meet clients in a professional location that is not your home, then there are few better options than the heart of the capital. Pretty much whatever line of business you are engaged in and whether you work alone as a freelancer or as part of a larger organisation, you can find a suitable work hub in Central London.
New Broad Street House
The capital is the UK's economic driver. And nowhere is this more in evidence than in the City of London where the big financial institutions are located. If your work means that you have to interface with these organisations and companies, because your firm supplies them in some way, or because your freelance work relies on them, then taking a temporary workspace in New Broad Street House is a great move. Any office space in close proximity to the city can offer you a huge advantage and New Broad Street is in the perfect location to do this. The attractive six-storey building will also impress your business associates if they choose to visit you. There is even a glass roof and some cream leather chairs which add to the professional setting.
Broadgate Tower
Situated in the heart of the financial district, Broadgate Tower is skyscraper which means that, should you require some face time with your customer or client, then you won't even be an Underground stop or two away. Indeed, you will probably be able to reach them within a few minutes simply by walking over. It is the ideal place to work if you want panoramic views, but also bear in mind that the shared workspace is also usually full of other people who are plying their trade in a similar way to you. As such, it can also be an excellent means of keeping an eye on your competitors, networking and even discovering new business opportunities.
CityPoint, Moorgate
Located close to Liverpool Street Station, CityPoint is perfect if your business is related to accounting, recruitment and supporting the IT sectors which feed the large banks and financial companies in the city. At CityPoint, you will also find freelance lawyers and legal recruitment specialists, so it is ideal if you are looking for shared workspace that will help you to network in those areas. The location means that you are also in close proximity to the Barbican Centre, the City's cultural heart. So, it is a good spot to conduct a meeting and then head off for some client entertaining, too. The glass fronted façade of CityPoint exudes all of the professionalism and dynamism that you need to impress city-based clients who are used to impressive surroundings.
Curtain Road, Shoreditch
Perhaps you only need to work for few hours to tweak a presentation so that it becomes completely client-centred before you give it. Or maybe you have a short term contract to supply IT or marketing to one of the big banks. Working close to your client - or potential client - can give you that competitive edge from other flexible workers who might be more remote from the capital's centre. However, renting even on a short-term basis in the City itself can be costly. Try Shoreditch co-working office space instead, where the work hubs are that bit more affordable. Still located in EC2, you get the proximity you need, without actually being in the financial district itself. If you choose to work here or the street that surround Curtain Road, you'll also be working alongside plenty of creative minds who tend to favour this part of central London.
Kingsland Road, Hoxton
Just a little further north from the City of London, Hoxton is another popular location for creative freelancers and start up companies. With easy access to the heart of the financial district by public transport - or only a few minutes in a cab - this part of central London is easy to navigate to via the A10 trunk road, making it the perfect choice if you are heading to the capital from the north and are in need of a shared office. Renting your office space on a short-term basis in this part of the capital means that you get the best of both worlds - a professional environment which is also a fun and vibrant part of the capital.