Best Coffee Shops for Working and WiFi in Central London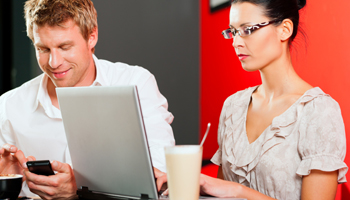 Central London has some of the city's best Wi-Fi connected cafes. Ranging from the bustling to the secluded, these spots are great spaces to work or arrange informal meetings. Many chain coffee shops provide convenient and free Wi-Fi access, including Starbucks and Costa Coffee branches throughout Central London. In addition to great internet access, the top connected cafes offer good coffee and food to keep you going. The following list offers some of the best chain and independent cafes that provide just the right atmosphere to work in Central London.
Joe and the Juice, Broadwick Street
Although small, the Joe and the Juice branch in Soho has a great Wi-Fi connection and relaxed atmosphere. More than a good coffee shop, Joe and the Juice features an excellent juice and smoothie bar. There are plenty of seats and the café is rarely very crowded. Situated on Broadwick Street, the café is within walking distance of Piccadilly Circus and Oxford Circus tube stations. Joe and the Juice's larger Regent Street location features much more comfortable seating and ample space to work.
Costa Coffee, Regent Street
Costa Coffee's location at 15 Regent Street offers a convenient and reliable Wi-Fi connection sponsored by O2. Once registered, you will be able to automatically access Wi-Fi from any of Costa Coffee's branches. Although Wi-Fi service is fairly consistent in all its locations, the Costa Coffee branch at Regent Street and Jermyn Street is ideal because of a lack of congestion from the coffee-seeking masses. There is usually a free seat available and the branch offers a quiet space to work or meet with clients in a convenient and central location.
The Breakfast Club, Soho
The Breakfast Club at 33 D Arblay Street south of Oxford Street is located within walking distance of Tottenham Court Road and Oxford Circus Tube Stations. Opened in 2005, the energizing space features wooden chairs that might be uncomfortable for extended stays. However, there is a lively and trendy atmosphere and a great Wi-Fi connection. The best time to work at the Breakfast Club is outside of peak hours, especially busy mornings. Complimentary Wi-Fi is accessible to all customers, although a password is required. In addition to its Soho branch, the Breakfast Club also operates locations in Angel, Spitalfields, Hoxton, Battersea Rise and London Bridge.
The Riverfront, South Bank
Tucked under Waterloo Bridge along the South Bank of the River Thames is The Riverfront. The bustling and modern café features large outdoor and indoor spaces, and often draws a lot of tourists. There is also an attractive and relaxing restaurant and bar, which are handy for longer stays. Although there are limited power outlets, there is excellent coffee and reliable Wi-Fi service. The café is located at BFI Southbank on Belvedere Road and offers great views of the Thames.